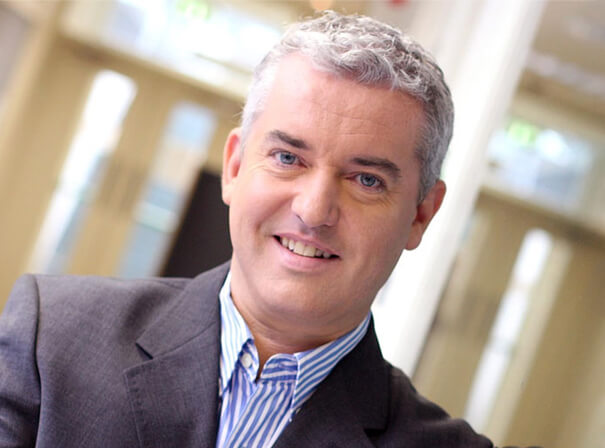 Jerry Kiernan
In the film Dead Poets Society a classroom of students stand on their desks and repeat the words "O Captain my captain" in support of their teacher played by Robin Williams, who was being fired for his unorthodox teaching methods.
 
Unorthodox methods that inspired a class of students to "make their lives extraordinary".
Jerry Kiernan was never fired by St. Brigid's National School in Foxrock, and I don't remember my classmates ever standing on our desks referring to Jerry as "O captain my captain". He was, however, a remarkable teacher. The best I ever had, and I would gladly have stood on my desk to vocalise what an influence he had on me and so many of my fellow students.
I first saw Jerry in the yard at St Brigids in the mid 1970's. It was his first year as a teacher, freshly out of teacher training college. A tall angular figure, with his customary long curly hair, and a big beard too. He didn't look like your average National School teacher, but what a great teacher he turned out to be.
In an era in the '70's when corporal punishment was still widespread, Jerry never resorted to the cane. Something I'll always be grateful for.
The only time I remember him getting annoyed at me, was when I told him that my Mum had given me a lift to school that morning. A fitness fanatic, Jerry couldn't understand why I didn't walk the ¾ mile journey from my house to the school. He was right of course, and it became a regular bone of contention between us.
He was way ahead of his time in terms of talking to the boys in his class about fitness and nutrition.
I may only have been 9 years of age, but Jerry spotted in me a love of sport, which he helped to nurture. Talking with your students about the next day's race meeting at Leopardstown may not have been in the teachers manual at St.Patrick's, but Mr.Kiernan knew that I was a regular at the track, and he was more than happy to see who I thought might win the 2 mile handicap at the South Dublin racetrack that weekend.
We chatted about the merits of jockeys, Pat Eddery, Lester Piggott, Greville Starkey, to the trainers Dick Hern, Paddy Prendergast, Vincent O'Brien et al.
Although he wasn't a big League of Ireland fan, Jerry would always chat with me on a Monday about how Shamrock Rovers had done the previous weekend. He made sure my enthusiasm for the local game got as much, if not more attention, as my Liverpool and Man United supporting classmates.
And of course, Jerry used sport to help teach history and particularly geography. I knew Trinidad and Tobago was in the Caribbean because they had a sprinter called Hasely Crawford.
I found out about Finland through the stories about Lasse Viren.
I could pick out Kenya on a map because Jerry told us about the exploits of Kip Keino at the Mexico and Munich Olympics.
The first New Zealander I heard about wasn't a rugby player. It was another long haired runner John Walker.
The same John Walker who took gold in the 1976 Montreal Olympic 1500 metres final. My first experience of Olympic heartbreak, when Eamon Coghlan finished fourth just outside the medals. I still remember staying up late in a darkened living-room to watch that race. Jerry had imbued a massive interest in athletics in us, and it's very possible if I hadn't had Mr.Kiernan as a teacher as a young boy, I wouldn't have been to seven Olympic games as a reporter/commentator.
Eventually my time with Jerry as teacher came to an end. As happens in junior school, our class moved on to another teacher and Jerry took another batch of youngsters who would come under his spell.
But I regularly met him at Leopardstown Races in subsequent years. I also met him – by accident rather than design – in Barcelona ahead of a big game at the Nou Camp. Another love of his.
And when I was asked by RTE to do commentary on the athletics alongside George Hamilton and David Gillick at the Rio Olympics, Jerry once again switched from friend to teacher.
For months, we met regularly at his beloved Er Buchetto in Ranelagh for coffee and for him to dispense his deep depth of knowledge on every athlete and every event in the build up to the games. His help was massive to me.
I got the impression that he was proud that one of "his boys" would be commentating on "his" sport at the Olympics. He was equally proud a few years ago when I told him I'd been asked by OBS (Olympic Broadcasting Service) to do the World feed commentary from the Tokyo Games on various sports, including some of the track and field events, such as the Marathon.
As proud as I was, when my former teacher represented Ireland in the marathon at the Los Angeles games in 1984. He ran a brilliant race. May not have won a medal, but he'll always be top of the podium for me.
Jerry's influence on my career and my life is incalculable.
That's a line that many Irish athletes would be able to repeat, I'm sure.
The Jerry Kiernan Foundation carries that forward, and his name and his influence will live on forever.